One training technique that promotes mental calmness and interpersonal concord is mindfulness culture. This is a chance to practice observing and recognizing what is happening inside and outside our minds. As a result, you can better discriminate between right and wrong, react appropriately, and make better decisions. Pathway School always focuses on taking place many events to spread this culture to every student and teacher. In addition, the school regularly hosts training sessions for staff intending to extend this cultural beauty in and out of the school. Pathway School members get many chances to participate in activities such as meditation bell, meditation, mindful steps, sleep meditation, peaceful meals, mindful dishwashing, meditation song, and practical mindfulness….
Mindfulness Bell
At Pathway School, the "Mindfullness bell" rings once an hour. Whenever the sound comes out, everyone stops everything they are doing, relax and focus on breathing. Mindfulness bell encourages practitioners to focus on the present and let go of the past to achieve a tranquil mood.
Meditation
Meditation aids practitioners in feeling calm inside, bringing them back to the present. We strongly advise all personnel to continue this routine. They only need to sit and concentrate on their breathing at the appropriate time of day. Your deeds take on meaning when your mind is at ease.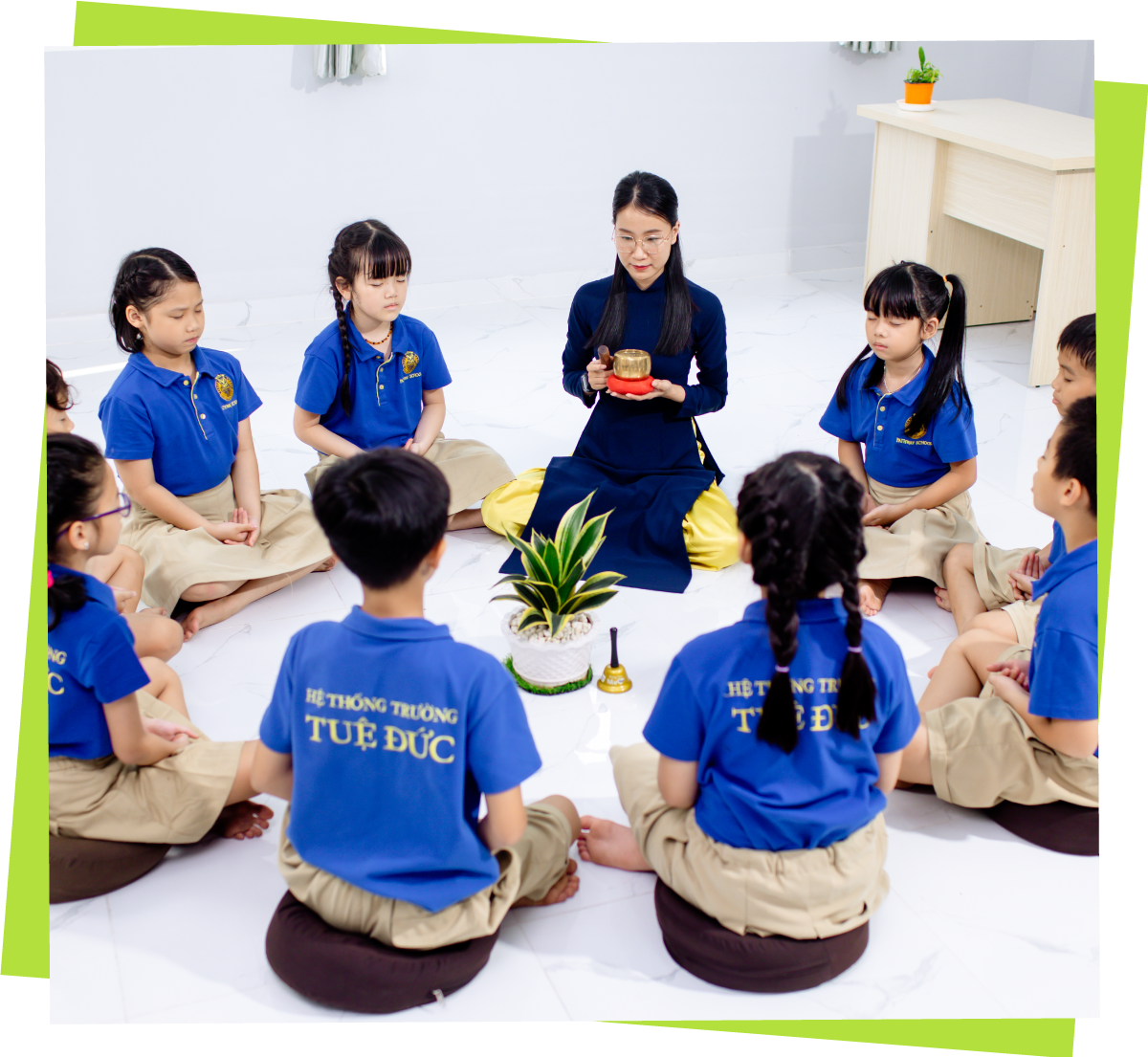 Mindful Steps
Pathway School members frequently engage in mindful exercises incorporating their natural breathing. Every step shows a sense of the individual living in peace and enjoying their freedom.
Sleep Meditation
Practicing sleep meditation makes our body and mind unwind, heal, and restore. We lay down, relax, control our breathing, and express our gratitude and love to our body's cells.
Peaceful Meal
All members have special meals called "Peaceful meals" every Monday. Everyone participates in this practice while paying attention to their thoughts and breathing… from waiting in line, selecting food, sitting down, and continuing through the meal and dishwashing. Practitioners can nourish their love and appreciation for everything by eating in peace. When we are aware of where it comes of this food, it works. Additionally, eating in a quiet atmosphere encourages us to develop the healthy habit of chewing our food thoroughly before we swallow.
Mindful Dishwashing
At Pathway School, students conduct mindful practice in various daily tasks, including washing dishes, which students complete with full attention and calm, allowing them to relax internally.
Meditation Music
Meditation music is music that, when sung aloud, puts us at rest. Members of Pathway School can communicate with one another by singing various meditation songs together.